Document Composition Software
Streamlined Document Creation & Management
Introducing uCompose, our CCM document management and composition program. uCompose is easy to use and allows you to quickly create and style large quantities of documents which are client-ready in minutes.
Document composition is primarily used to communicate with your customers – sending bills, marketing materials, and other mailings on a frequent basis - playing a critical role in maintaining and improving your customer relationship. Document composition software aids in the creation, printing, and distribution of documents for customers – sending a cohesive message which incorporates your company's corporate branding. Whether you're engaging in a multi-channel or omni-channel approach, document composition quickly and easily draws in information from multiple sources (like a desktop or cloud), while keeping your information protected and secure.
In short – uCompose provides full-service CCM document management.
Document Composition Software for Businesses Across The U.S.
Uluro's Ucompose Customer Communication Management software makes document management and composition streamlined and simple. Our software helps businesses and companies across the United States improve client communications and improve their bottom line. We work with clients across the United States in cities such as Charlotte, NC, Chicago, IL, Chattanooga, TN, Nashville, TN, Louisville, KY, New York, NY, and others!
Composing Customer Communications Just Became Fast, Easy, and Cost Effective!
Uluro's uCompose saves your company time, effort, and expenses which are traditionally associated with customer communications. uCompose allows you to achieve accurate, visually consistent communications, resulting in happy customers and decreased overhead costs. Our document composition software ensures your printing and mailing processes continue to run smoothly by working with the rest of the Uluro CCM modules, including:
Our full range of software solutions streamline your client communications, mailing production, and distribution processes. With Uluro, you can create, send, and receive communications; securely receive payments, track mailings, and manage your inventory with software modules designed to work together conveniently and efficiently. Our document composition software is the best in the mailing industry for creating and managing client communications.
Easy CCM Document Management Composition Solution Eliminates Need for Programmers
Uluro's uCompose is a CCM document management, composition, and variable data publishing tool at the center of Uluro's customer communication management (CCM) solution. uCompose was designed to enable business users to easily create effective communications by removing the need for traditional programming and scripting languages. Designers can instantly create and proof files for each delivery channel.
uCompose enables customer communications to utilize the best technology, creating exceptional results by accepting virtually any RAW data; like XML, CSV, Delimited, as well as PDF print image ASCII and many other legacy data streams.
The WYSIWYG interface enables the designer to easily setup complex graphs, charts, and multi-line details sections. Uluro's GUI uses "drag and drop" technology for efficient creation of highly customized documents.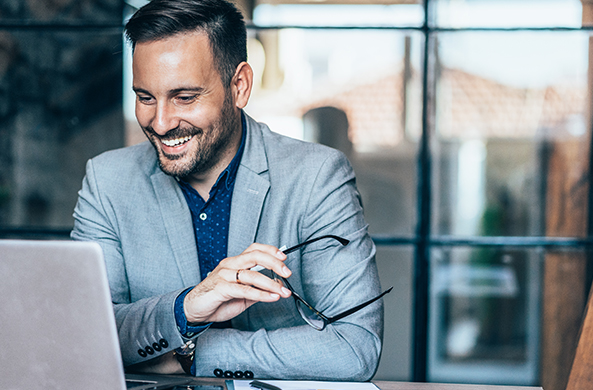 Explore the features of Uluro's uCompose below:
WYSIWYG Design
Uluro's true WYSIWYG (What You See is What You Get) design features full support for advanced regular expressions application development, so you can ensure new implementation and change requests are completed faster and require less development time and resources.
Streamlining and Simplifying Document Design:
Data parsing to instantly show results
Drag and drop sections and details into place
Support for all barcodes with visual representation
Stock replication on the fly
Multiple variable messaging changes with content supported
One step address block creation
Use print format control to scale pages for desired output during design
Charts & Graphs
Uluro's database backend has the intelligence to generate multiple levels of graphical information for any document along with supporting text and educational content. Uluro's "drag and drop" functionality reduces the need for constantly setting font heights and X, Y parameters, shortening application design and turnaround times. Easily create transactional documents more effectively with a clean, elegant look and feel with Uluro.
Full Color
Uluro provides on-demand, full color variable printing and can be your central hub for migration from monochrome to highlight or full color, laser or high speed inkjet. For easy migration from Monochrome to full color, Uluro lets you turn underlays on and off so you can transition from pre-printed shells to inline full color printing. Uluro offers full color output support for Xerox, Ricoh, Océ, Canon, InfoPrint, and Riso printers using vendor-supplied drivers. Uluro allows you to Co-mingle multiple client's jobs into a single print file to maximize postal and production benefits without costly programming.
Tables
Uluro provides unlimited application design options and the ability to easily create multiple detail sections and tables that flow continuously without the need for custom programming.
A simple-to-use table feature quickly formats multiple lines of input data into a single detail line
"Mapping" or composing tables that normally take programmers days to complete can now be completed in hours
Use table data to create informative content like charts and graphs
Ability to easily sort or filter transactions and dates
In built parsing to format ad and or remove columns of data without scripting
TransPromo
TransPromo dynamically places relevant information and personalized marketing messages directly on statements, invoices, and other transactional documents. Done correctly, it delivers measurable results in increased revenue as well as customer satisfaction and retention.
With Uluro, you are able to:
Strengthen brand image and create competitive distinction
Improve bill clarity and reduce call center traffic
Use special offers to up-sell, cross sell, and drive business results
Generate revenue by selling advertising space
Use personal messaging to build brand loyalty
Strengthen and expand multi-channel marketing
Imposition
Uluro lets you design and compose print runs in any multi-up format, adding value and functionality while reducing costs.
Features include:
Simple to use GUI for all imposition and multi-up settings (postcards, etc)
Complex sorts such as North-South can be completed in seconds
2-up printing of transactional documents to reduce click charges, even with variable length transactional statement – makes moving towards color simple
Cut 'n' Stack Support for variable length statements
Imposition pages can be printed in multiple up, yet delivered individually across the multiple output channels
IMB
Uluro is a complete integrated and automated IMB solution enabling you to use full service IMB today, helping you take advantage of the available postal discounts. Uluro simplifies the IMB process with basic and full IMB support, fully integrated with no additional programming requirement. With IMB support for all of your mailings – including mixed weight manifested mailings – Uluro is the complete solution to move your mail delivery into the future.
Regular Expressions
Shorten time to market with Uluro's support for regular expressions. This creates design efficiencies that speed development time while providing developers with an expansive feature set that is second to none.