Multi-Channel Delivery Suite
Deliver Customer Communications through the Channel Your Clients Prefer
Uluro is an integrated customer communications management tool providing mailers with their own branded cloud solution. Uluro allows mailers to offer their client's personal job tracking portals, online reporting, document archiving, and secure web proofing with a full suite of eDelivery and multi-channel delivery solutions. Combined with the ability to support online payment processing, Uluro provides the competitive advantage mailers are looking for in today's challenging market.
Uluro's multi-channel delivery suite offers SMS Text Messaging, IVR options, and HTML customizable email, extending the ability to communicate beyond the already existing means of email, fax, printed mail, and electronic document presentation on the web.
Uluro is a complete presentment and payment solution for PC's, tablets, and Mobile devices.
Explore the features of the Uluro Cloud below:
SMS Text Messages
SMS is the fastest, most reliable way to reach anyone, anywhere in the world, at any time. It's immediate, interactive and intimate, which is why it works so well for businesses of all sizes.
Seconds after you send a message it arrives to your customer's handset. And it gets read. 90% of text messages are read within three minutes of being received. You can facilitate two-way conversations and the immediacy of SMS allows this to happen in real-time. Your message shows up on the home screen of your customers' cell – it's a very personal way to communicate.
The following message samples demonstrate how some customers are using Uluro to gain clients, increase response rates and/or improve client receivables:
Your Bill from Uluro water is $(XXX) Please reply P to pay
You have an Appointment with ABC Car Cleaning today at 3PM. Reply C to confirm or R to reschedule
You have important Mail from Uluro in your mailbox today; confirm you received it by replying C
You can use Uluro to deliver bills and invoice information via text message; it's a simple way to link print and mail with SMS. And with Uluro's uDeliver, you can setup and link an SMS option to your current workflow in less than 10 minutes.
Uluro's text message service is powered by business mobile messaging specialist, MessageMedia, whose comprehensive range of mobile messaging solutions help businesses in almost every industry. For more see www.messagemedia.com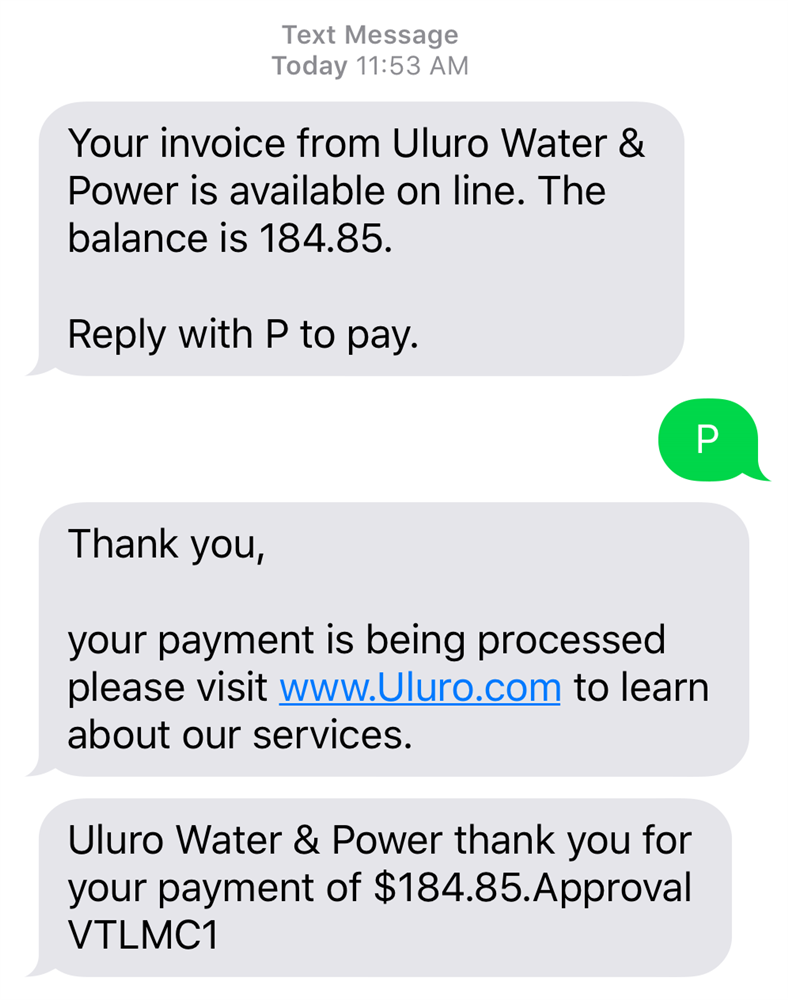 SMS text messaging is automated in uDeliver, allowing you to simply and easily integrate SMS into your workflow processes.

Build custom SMS messages within the Uluro SMS Template Editor.
Pull selected message detail from customer input data.
Include system variables or mapped fields from within the Uluro data library.
Design communication campaigns utilizing a series of SMS templates.
Includes End User Opt-In feature.
Customize delivery schedules based on business rules.
Business rules can include custom date ranges, days/hour calculations, time zones, and more.
Customize end user keyword responses to generate secondary events.
Compose follow-up messages based on responses.
Ability to initiate bill payment for selected end users.
Uluro's text message service is powered by business mobile messaging specialist, MessageMedia.

For more see www.messagemedia.com
Intelligent Voice Recognition –IVR
Uluro is not limited to traditional print and eDelivery. With integrated IVR, Uluro can call end users on their home phone or cell phone and provide a unique variable phone call with options to confirm appointments, initiate payments, or provide feedback to a direct marketing piece.
Uluro's out calling IVR solution supports multiple languages and voice options. It contains an easy to use IVR Editor, providing the ability to build customized delivery options and messages based on data provided or from the Uluro system.
Replace overdraft notices, appointment reminder postcards, and invoices with easy to use uDelvier IVR and really communicate with the end user.
Web Base Submission
Like e-presentment, Web-based submission has become expected by most customers when SFTP (Secure File Transmission Protocol) is not an option. Uluro can receive data via the Web through a semi or fully branded site, then begins an automated process to prepare the file for production.
Upon receipt of data, Uluro sends out an email confirming receipt of the file. Then the automation component of Uluro takes over. The file begins to run through advanced data validation and pre-processing steps to create a unique MD5sum entry (a digital finger print), ensuring that the specific file has never been received before. This ensures a file cannot be inadvertently printed and mailed a second time. Data validation steps include checking of mandatory fields for:
Account ID
Dollar balances
Page length
Missing fields
Pattern matching to check for irregularities
The file is then automatically added to the secure database for processing or web proofing. Next, the web-based submission is combined with Uluro's OnceAmation to ensure it is securely processed from receipt, until production hold, with no IT interaction, unless there is an exception.
Uluro Web-submission accelerates receipt and processing of jobs while increasing accuracy.
Secure Web Proofing
Uluro can automatically notify clients or staff when a job has been processed and is ready for approval, before being released to a printer. The entire job or individual documents may be accepted or rejected. If rejected, notes can be added and an email generated for immediate review.
Authorized users can securely log into a semi- or fully-branded web portal and review job and file information such as:
Input data
Name address fields
Number of pages
Number of statements
PDF or PNG with pre-printed stock emulation
Specific letter versions
Individual mail pieces or the entire job
Uluro web proofing closes the loop with customers to help ensure accuracy.
Bill Pay – EBPP – EIPP - uPayments
Companies today expect print and mail providers to do more than ever before. Uluro supports all your print and mail needs, plus all categories of e-billing and self-service across both B2C and B2B environments, including discrete and recurring financial transactional environments.
Uluro's fully-integrated bill pay solution connects seamlessly to trusted bill pay providers, complete with site branding and security that satisfies the most demanding requirements.
Uluro's advanced features let you provide customers with multiple options such as full and partial payments, and future and recurring payments within a single solution. It can quickly move any organization from basic print and mail into a full-service presentment and payment provider complete with an Automated Clearing House (ACH) supported back-end system.
Benefits include:
Provides a secure hand-off between e-presentment, bill selection, and payment services
An integrated web-based reporting and management dashboard interface provides advanced reporting for CSR activity and B2C payment status and usage
Accept payment on your client's behalf and accept American Express, Visa, MasterCard Discover and direct deposit
ACH payments can be batched and processed daily, while credit and debit card payments are authorized in real-time
Seamless integration with online bill pay providers lets end-users select bills they want to pay and schedule payments, all without complex programming and specific customization
Uluro provides you a powerful tool allowing for the ability to use electronic bill payment features and add more value to your customers.
Customer Service
Uluro's flexible, secure and reliable customer service offerings make your CSR's job easier by increasing their knowledge of every job in your shop:
Access to all information about the job
Access to the raw data and a PDF of mail piece
Information on where the job is and what state of processing
In addition, your customers and their customer service departments have web-based access to all information about the job as well as access to:
Data from the job account number, totals, billing dates, etc.
A PDF version of the mail piece
An HTML version of the mail piece
Uluro is the one solution that gives you access to the tools before and after the job is created, to ensure open communication in a secure environment.
E-Delivery
Electronic delivery of bills, statements and other high-value documents is becoming commonplace and all but expected by many consumers. But e-delivery is a complex process fraught with pitfalls for the unwary biller or service bureau. Uluro lets you enter the world of e-presentment as a master, using advanced security and a solution that enables PCI (Payment Card Industry) compliance.
Uluro's Secure Email Presentment and Payment (SMPP) solution offers an alternative to "push" e-bill delivery and settlement model. This brandable out-of-the-box interface can be customized for your company or clients in a matter of minutes. Plus, other Uluro e-delivery options help drive communications with your clients and/or their customers in such popular formats as:
E-delivery via a HTML-based email with a link to secure website
E-delivery via a HTML-based email with an attached PDF version of the mail piece
E-Delivery of critical information to your client via a HTML email
E-delivery via a HTML-based email with a link for secure tablet/mobile viewing
With Uluro, each user can control how they want to communicate in order to maximize response rates and ensure all data is delivered in the most appropriate - or most preferred - way. With Uluro you can meet your clients' demands for secure access and additional services without the need for costly and extensive custom programming or administrator intervention.
The multiple delivery options available through Uluro lets you streamline your entire billing and revenue capture process to remove the human element and eliminate costly errors, while providing a full range of true multi-channel delivery options.
Uluro has a built in HTML editor to make building emails easy and provides the ability to link variable content from the preference management database, mail files and/or variables provided in the data to create unique trackable emails to enhance your communication offering.
Uluro makes e-delivery a reality for virtually any print and mail provider.
Secure PDF Archiving
More and more clients and customers are requiring round-the-clock access to statements, mail, bills and documents online. Whether documents are being archived for e-presentment, customer service, self-service or account retention, Uluro provides a way to exceed your client's requirements.
The web-based searching GUI can quickly locate a specific transaction or mail piece and enable viewing as a PNG image or PDF within the browser, or as a PDF within the users PDF default reader
Uluro can store the PDF and provide secure PDF presentment or use secure "on-the-fly" PDF presentment
Fully branded landing pages and Uluro's API ensure corporate look and feel can be maintained on all archived PDFs
Self-Enrollment
With Uluro, clients can securely self-enroll, providing all account and contact information as required by the company with which they are doing business. This can be done on a fully branded site using state-of-the-art security and data encryption, and using active acknowledgement and customer permissions.
Whether documents are being archived for e-presentment, customer service, self-service or account retention, Uluro helps you exceed your client's requirements.
Site Branding
Uluro's simple and powerful branding tools can be implemented for any number of clients. With an unlimited number of pages available and full support for any CSS (Cascading Style Sheets), the branding is only limited by your design knowledge or your client's imagination. The branding flows through all pages from initial upload, all the way through web presentment and bill pay to ensure every user has a complete and professional solution.
The CSS support makes changing the look and feel simple for anyone with basic HTML knowledge. This lets you offer basic branding for a nominal fee or use the API tool set to create a fully branded e-delivery site that has the same look and feel as a corporate site.
Uluro enables you to deliver communications across all media and fully customize the appearance of the delivery method without the need for expensive programming staff.
Web Delivery
In today's world of instant gratification, you need to offer more services than just print and mail. Uluro enables you to expand your services to true secure multi-channel delivery. Uluro can support your workflow with:
Secure web submission
Web proofing
Web delivery as HTML, image or PDF
Email with login links or PDF attachments
Support for single-on
Fully or partially branded websites
Fully integrated BillPay support
IVR - Yes it can call you too
SMS notices and Payment support for Mobile users
Uluro is the one solution that takes you further than all others. We are the complete workflow partner that ensures that you can communicate with your clients and their clients, the way they want and when they want it.
Uluro's is a single web based solution that includes secure branded customer facing self-service solution with capabilities that enable the full range of business and consumer customer service, payments and account management activities.
With multiple BillPay options, including complete and partial payments, re-occurring renewals, and future payments, Uluro can ensure you provide a true Web based solution. The Uluro zero foot-print web-based solution provides a secure dashboard for customers to access search and retrieve information from a single, easy-to-use web interface.